Home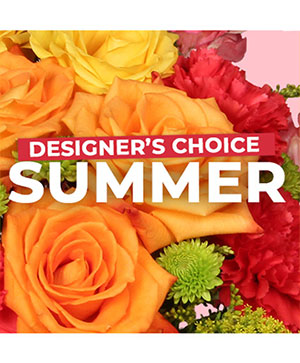 Summer Flowers
Designer's Choice
Summer is the time for fresh flowers! Bring that sunny outdoor feeling indoors with our Designer's Choice Summer Flower Arrangement. We'll create something that will have you celebrating the beauty of the brightest season of all! A colorful bouquet is exactly what you need to warm up your summer home.
More Info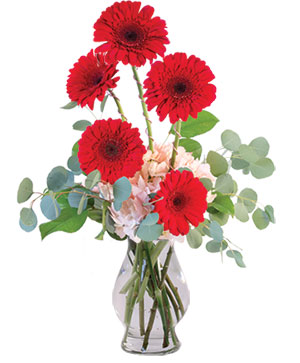 Crimson Gerberas
Floral Design
With these beautifully elegant flowers, you're sure to make them feel loved! This unique arrangement is delicately designed with vibrant red gerberas, lush silver dollar eucalyptus, and pink hydrangeas. Surprise them with the unexpected. Send Crimson Gerberas to someone you love today!
More Info
Due to the Covid pandemic.
I have the web site shut down for the week of valentines. You will need to call the shop directly to see what is available . Some of the growers are not growing and some of the shippers are not shipping. Thanks for your understanding.
Our Phone number is (325)677-8506 and
(325) 672-8759
We are currently not accepting walk in customers, we will however make deliveries with knock on door and leave on porch, so please make sure you give the correct address and a phone number to reach the customer.
With the covid pandimic it is difficult to know what flowers will be available or not. so please don't assume that we will have everything listed on web site chances are we will not have it .
When ordering please leave a first choice and a second choice , even if it says similar. Just in case some of the flowers are not available . In that case we may have to substitue other colors or flowers.
Remember on Any Holiday, We do not do Timed Deliveries, Due to the high volume of flowers, you may specify if you want AM or PM, and we will do our very best.
If your are ordering for one of our surrounding areas please order a day in advance so we can schedule for this.
We need a Name first and last , address, phone number to the recipent to make the delivery flow smoothly.
We gladly deliver anywhere in Abilene except Dyess Air Force Base, due to the check in process. We Love our airmen and women, we just have a long delay of getting on base. Thank you for your service.
Like us on Facebook :)
As always thanks for choosing Abilene Flower Mart.