Easter is April 1st
For Valentines we will have flowers made up that are not listed on our website, from bud vases to small arrangements up to larger arrangements, Price is no object.
When ordering on the website,if you are ordering something that is not on our website, Go to Custom arrangement, put your price that you are wanting to pay , and we will put you something together that is in your price range, It is really that easy.Remember delivery and taxes will be added to that.
Please Remember that we will have in valentine colors for flowers and if you order something other than valentines colores we may have to substitute as i did not order every color of every flower this month, Thank you for understanding.
Our New Plush will be arriving Starting Next Week,
I will be making Candy boquets that are not shown on our web site as i don't know how to put them up yet, They will be in all different kinds of containers, Valentines as well as generic all price ranges.
Pamper me baskets will be made up ahead of time.
Fruit baskets will also be available, ( please allow extra time for fruit baskets, as i get the fruit as i get the orders so it will be fresh ) and on Valentines it gets busy so any extra time would be appreciated.
We will also have plants to choose from.
We are located at 1233 - c Tracy Lynn. The phone number is the same 677-8506
Abilene Flower Mart is the preferred flower shop in Abilene, TX. Our florists work with the best flowers to create stunning flower arrangements , Candy Bouquets, Plants , Plush Animals, Silk Arrangements, Homemade Baby Blankets, Tutu's, Diaper Cakes, Balloon Boquets, and much more.
Abilene Flower Mart has a budget range for everyone, Even if you're looking for cheap flowers we will be glad to work with you, just give us a call at 325-677-8506 to see how we can help you.
When ordering please leave a first choice and a second choice , even if it says simular. Just in case some of the flowers are sold out. In that case we may have to substitue other colors or flowers.
Remember on Any Holiday, We do not do Timed Deliveries, Due to the high volume of flowers, you may specify if you want AM or PM, and we will do our very best.
If your are ordering for one of our surrounding areas please order a day in advance so we can schedule for this.
We need a Name first and last , address, phone number to the recipent to make the delivery flow smoothly.
We gladly deliver anywhere in Abilene except Dyess Air Force Base, due to the check in process.
Like us on Facebook :) Abilene Flower Mart
As always thanks for choosing Abilene Flower Mart.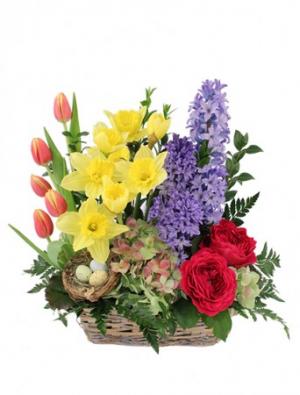 Blissful Garden
Flower Basket
Blue hyacinth, yellow daffodils, hot pink garden roses, orange and yellow tulips, and green hydrangea nestle a delicate bird's nest, complete with eggs! Give a basket full of spring and order this arrangement online today!
$50.00, $60.00, $75.00
Shown at $60.00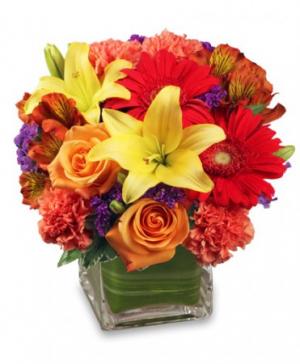 Bright Before Your Eyes
Flower Arrangement
Getting fresh flowers is always memorable and special for your recipient - regardless of their age. Featuring red gerberas, orange roses and yellow lilies, our BRIGHT BEFORE YOUR EYES Bouquet has just what it takes to bring some fun and show you care!
$65.00, $75.00, $85.00
Shown at $75.00